How Our Floorcloths Are Made
---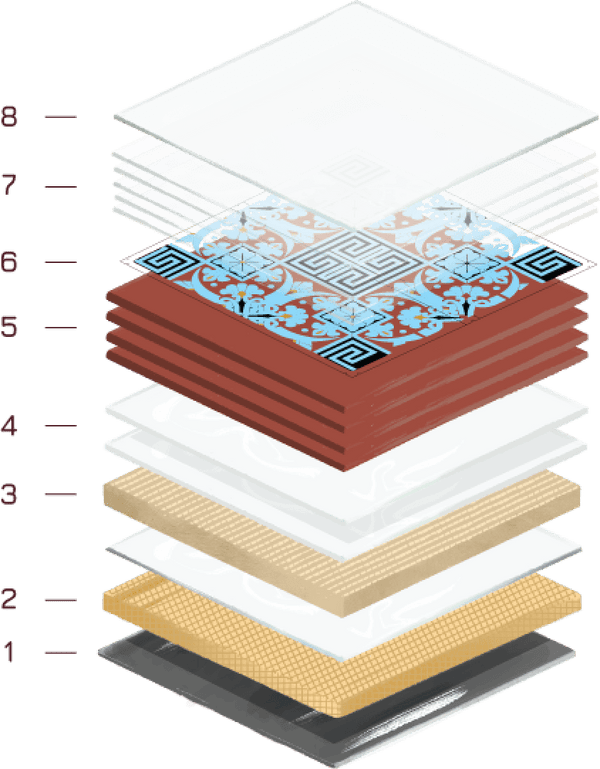 1. Carpet padding & vinyl fabric backing
Our floorcloths have a two-inch glued hem and a two-layer sealed underlayment (carpet padding is adhered to the back of the floorcloth and the vinyl fabric is adhered to the hem). This combines to provide cushioning and water resistance, keeping the floorcloth in place and preventing debris from gathering underneath, thereby extending the life of these hypoallergenic floorcoverings.
2. Primer coat
The backside of the canvas is sealed with a coat of primer.
3. Canvas substrate
Our floorcloths are made using cotton duck #4, produced in the USA. This is an extremely high-quality, rugged canvas and after years of experimenting with various canvas weights we exclusively use this canvas based on its unrivaled performance.
4. Coats of gesso
The canvas is primed with two coats of superior grade gesso which prepares the canvas for paint.
5. Four to five coats of paint
We apply 4 or 5 coats of Benjamin Moore high-quality flat paint, sanding between layers.
6. Stencil application
This is the most complicated part of the process. The optimal layout of the design is determined, and the pattern is hand-applied using stencils and acrylic gouache paints that will not fade with age or UV exposure.
7. Five to six coats of polyurethane
Our floorcloths are extremely well protected with multiple layers of low gloss, water-based polyurethane that will not yellow over time.
8. Wax application
We recommend a coat of wax as the final finish layer on our floorcloths. Wax makes the floorcloth easier to clean and protects the polyurethane layers. We recommend re-waxing every 4 – 6 months in a busy area, like a kitchen, and annually or less often in other environments. We use Butcher's Bowling Alley wax. Waxing does make the floorcloth slightly slippery for socks or smooth leather soles, so its application is optional.