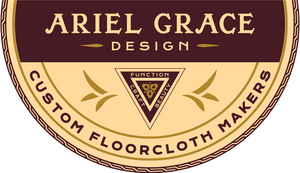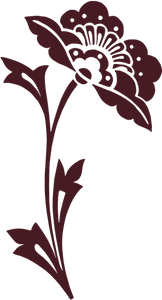 Beautifully crafted, custom-designed canvas rugs.
Ariel Grace Design is the premier source for beautifully crafted, custom-designed floorcloths. Floorcloths are handmade canvas-based rugs that are infinitely customizable in style, palette, size and shape. We work with clients to create the perfect floorcloth/canvas rug for your home or office.  Our Floorcloth Collections show many examples of custom floorcloths. We look forward to working with you to modify a floorcloth you see on our website to work perfectly for you, and welcome any ideas you have for new patterns and palettes.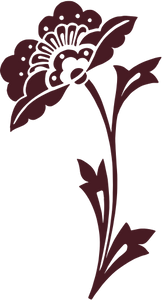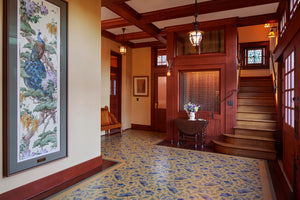 Floorcloth Collections »
The Dresser Collection is based on the work of Christopher Dresser, an iconic British design visionary. This collection demonstrates how a snippet of excellent pattern can be translated into a full floorcloth/canvas rug design. The Muse Collection consists of floorcloths that are based on inspirational patterns in fabrics, ceilings, rugs, wallpaper, and other sources. The Geometric Collection creates floorcloths from designs found in linoleum, tile, marble, wood and other floor patterns. The Gracewood Collection includes designs from our founder's former floorcloth company.
Floorcloth Benefits
Floorcloths are remarkably durable, easy to clean and hypoallergenic.  They can be customized in every way to enhance any home or commercial environment.  As they protect floors and are unaffected by spills, floorcloths are particularly well suited for kitchens, dining rooms,entryways and hallways. Any space is elevated by the beauty and practicality of these heirloom-quality floor coverings. 
For more information about the canvas floor cloth options we offer at Ariel GraceDesign, give us a call at 503-206-2631 or send an email to info@arielgracedesign.com.  Whether you prefer traditional floor cloths, historic floor cloths, linoleum-patterned floor cloths, or a custom floor cloth, based on your favorite pattern, we are looking forward to working with you.